The Joy of family and friends.

It's me Lillian. Your Sister in Christ! Come, let's enjoy the photos and accomplishments of my family and friends! We must always be willing to share our goals and accomplishments as a testimony for others! Come and be lifted up, edified and encouraged!
Here's a little about myself. I was born and raised in Harlem. I have 3 children, and 3 grandchildren. I have written 3 books, with a fourth in progress. I am surrounded by a wonderful group of spiritual friends, that fully support my dreams and goals. I love writing, cooking and decorating, and I enjoy fellowship with my brothers and sisters.

Cassandra Reeves - Mother of Samantha Reeves
I met Cassandra approximately 29 years ago. We became very close friends, and have remained so thus far. A few years back, Cassandra accepted the Lord as her savior, and is now a born again child of God. I am very proud of Cassandra's accomplihments in Life. Cassandra has climbed some very high mountains to get to where she is today! Cassandra, you get five Stars! *****

Samantha Reeves - Business woman of the new Milienium.
Sam is the key person for the "Harlem's Mentoring Success Center.
Check out Sam's sites by visiting the following links: www.leaguelineup.com/thb; www.teamhoodja.com;
http://newyork.craigslist.org/mnh/eve/144058136.html
http://www.idealist.org/-Sam has some upcoming events: Check it out below: A meeting will be held on April 29, 2006 from 12:00 pm - 3:00 pm @ Bronx River Community Center. 1619 East 174th Street, between Stratford & Manor Avenues. You are all welcome to come.
This meeting is in regard to some very important events. Visit sites for complete details.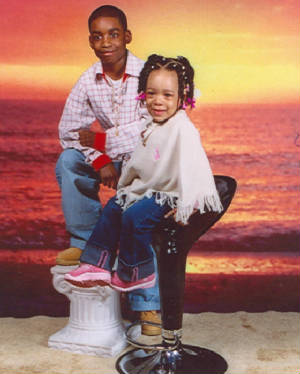 Sam's beautiful children: Devonte and Brianna
Sam is a mother holding down the fort for her beautiful children. Setting an example for all the single mother's out there. All things are possible, if you only believe in your dreams! Big Ups to Sam!
Please do not forget to sign the guess book!
We must worship the Lord in the beauty of holiness! Bottom Line!